---

VIDEOS:

"Gene Krupa: Raw Footage By Request, 1971 and 1973:" This video was compiled in response to hundreds of queries about the availability of these two sessions on film. The first, shown only in part in various cities via CBS TV on June 27, 1973, is the complete and unedited CBS footage (complete with film starts, stops and cuts) of the original Benny Goodman Quartet's rehearsal for Carnegie Hall. Though the audio and visual quality are less than state-of-the-art, this record of four legends at work, filmed less than three months before Gene's death, is priceless. The Canadian "In The Mood" broadcast (we've offered the audio portion on CD for some time, and one tune, "Dark Eyes," is a part of our "Gene Krupa: Swing, Swing, Swing" video) was filmed in 1971, around the same time Gene taped the famed "One Night Stand" special in Canada with Lionel Hampton. Yes, there is a time code in the center of the screen (and believe us, this is the only way this will likely ever be released anywhere), but fortunately, it's light in color and doesn't obscure the otherwise fine picture, stereo sound and wonderful music. This was possibly the last time Gene ever played his big band charts--including "Leave Us Leap," "Sing Sing Sing," "Boogie Blues" and others, and he is in absolutely marvelous form. "Gene Krupa: Raw Footage By Request" is over 50 minutes of raw rarity and raw excitement! This video is a private edition offered on a collector-to-collector basis only, with no rights given, offered or implied. This will not be listed on our JazzLegends.com web site for a while, so take note: Price is $30 with free shipping worldwide, with payment to:

Bruce Klauber
Box 496
Lafayette Hill, PA 19444.



"Gene Krupa: Swing, Swing, Swing!": Bruce's second video retrospective of Gene is now available and it's even better than the first! Features 60 minutes of rare footage covering the years 1937 to 1971. This priceless video includes classic performances with Anita O'Day, Benny Goodman, Roy Eldridge, Louis Armstrong, Charlie Ventura, Eddie Shu and more! Some of the tunes include "Sing, Sing, Sing", "Thanks For the Boogie Ride", "Dark Eyes" and "Caravan." There is even a fabulous interview with Gene himself! This must have video for any Krupa fan.NOTE: For PAL version, e-mail Hudsoneuro@aol.com and/or call 44+(0) 1-474-815919.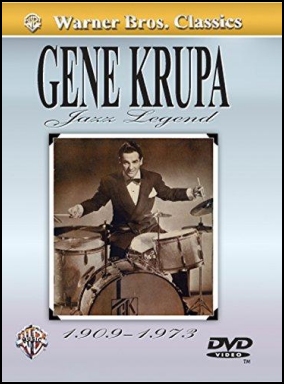 "Gene Krupa: Jazz Legend": The acclaimed, 60-minute "retrospective," narrated by Steve Allen, contains over a dozen complete performances of "That Ace Drummer Man" from 1937 to 1972. Commentary by Louie Bellson and plenty of great music from Gene and his cohorts, including Benny Goodman, Teddy Wilson, Roy Eldridge, Anita O' Day, Charlie Ventura, Red Rodney, Lionel Hampton and others.


"Buddy Rich: Jazz Legend Volume One": If you love Gene, you'll certainly love Buddy. This first volume in the series, narrated by Mel Torme', covers the years 1917-1970. Included the rarest of the rare film footage of a five- minute drum battle between Krupa and Rich from 1966.

"Legends of Jazz Drumming Volume One": Everything you wanted to know about this history of jazz drums and jazz drummers from l920 to 1950. Hosted by Louie Bellson, this fascinating, performance-oriented "retrospective" features a clip by Gene and the original Benny Goodman Trio from the mid-1950s, actually part of a rare promotional film for "The Benny Goodman Story."

"Beat the Band": Among the most sought-after of the Krupa films, this 67-minute featurette features Gene and the band with Red Rodney, Gerry Mulligan, Buddy Wise, Charlie Kennedy and Teddy Napoleon. There's a great "live" drum solo as well as the famed "boiler room" sequence where Gene plays sticks on the steam pipes. Struck from a pristine, 16mm film print, not commercially available on video, but obtainable exclusively from JazzLegends.com in this special, private edition for collectors only.

"George White's Scandals": the long out-of-print film featuring Gene and his Band is now available through Bruce Klauber's Private Edition collection. This classic movie includes the "Leave Us Leap" jam session featuring Charlie Ventura which was excerpted on Gene Krupa Jazz Legend.
"Hollywood Hotel": for the first time on video is the complete, 101-minute film, starring Dick Powell, Rosemary Lane, and in their first of many screen appearances, Benny Goodman's Orchestra featuring Gene Krupa. And yes, there is actually a film clip of Krupa briefly singing "Hooray For Hollywood." This is offered as a "transfer service" on a collector-to-collector basis only, n a private edition, with no rights given, offered or implied. Cost is $30, with shipping free worldwide. This video will not be available directly through the JazzLegends website for some time, so please order directly through the address below.
---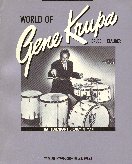 BOOK:

"World of Gene Krupa: That Legendary Drummin' Man": Musicologists say that this 214-page work, with an introduction by Mel Torme', marked the very beginning of the resurgence in interest in Gene. Includes 50 years of articles written about Gene, by Gene, comments from his musical associates, reviews of his concerts and records, filmography, selected discography and great photos.





---

CDs:

"The Gene Krupa Discoveries: 1942-1967" - includes 15 of the rarest Krupa radio and tv airshots. Gene's on radio with Talulah Bankhead, Harry James, Edgar Bergen, Charlie McCarthy and Groucho Marx. The three titles with Flip Phillips and Teddy Napoleon--the legendary Vesterhas, Sweden "test pressings" for the Selecta label-- are being issued for the first time in the world. There's two appearances on The Mike Douglas Show of the mid-1960s, and two cuts made in 1956 for Verve that represent Gene's first and last foray into the "rock 'n' roll" market. This is a must-have for any Krupa fan, with 75 minutes of fabulous music. Note that some of the sound isn't up to "hi-fidelity" standards, but the music certainly is. As always, all our CDs are $20 with free shipping worldwide. To order on the web via PayPal, visit us at www.JazzLegends.com.

"Gene Krupa: The Great 1960's Quartets" - These sessions represent the "holy grail" of unreleased Krupa material, now on CD-or in any form-for the first time. Session One from 1961: Gene Krupa, Eddie Wasserman, Dave Pearlman and John Bunch from The Steel Pier in Atlantic City playing "Don't Be That Way" and "Three Little Words." Session Two from 1963: GK, Charlie Ventura, John Bunch and Knobby Totah from The London House in Chicago playing "Tickle Toe" and "Cry Me A River." Session Three from 1964: GK, Charlie Ventura, John Bunch and Eddie DeHaas from the Grant Heights NCO Club in Tokyo, Japan playing "Big Noise from Winnetka" and a 17-minute version of "Stompin' at the Savoy." Fifty minutes of incredible playing. These sessions have never been issued anywhere in any form. Complete with detailed notes. Note that this has been remastered-but not "over-processed"-some of the sound is not digital state-of-the-art. But the music is priceless. Price: $20 with free shipping worldwide.

"Krupa/Dorsey/Goodman: The Lost Sides - 1944, 1946 and 1951" - After Gene's 1943 legal troubles were behind him, he spent a short time with Benny Goodman's band then to everyone's surprise joined Tommy Dorsey's Orchestra. Once available 40 years ago in a limited edition 20th Century-Fox Lp, the best of the Krupa/Dorsey sides is now here on CD. Session One from February 1944: Swing High, Opus One, Wagon Wheels, I Never Knew, Losers Weepers, The Minor Goes a Muggin' and Well Git It! It's fabulous hearing Gene play Buddy Rich's showpieces! Session Two from July 26, 1946: The Benny Goodman Radio Show, with the following cuts: Krupa/Goodman dialogue, I Want To Go Where You Go (Goodman Trio with pianist Joe Bushkin), Drum Lesson with Krupa, Goodman and Peter McDonald; Don't Be That Way (drum battle with Louis Bellson). Issued briefly years and years ago as an Lp on the Sunbeam label. Session Three from April 1, 1951: The Benny Goodman Trio (Goodman, Teddy Wilson, Gene Krupa) Plays for the Fletcher Henderson Fund playing "I Found a New Baaby." Released on an Lp in 1951 and out-of-print for nearly 50 yeaars. Price: $20 with free shipping worldwide.

"The Gene Krupa Jazz Quartet at JATP - Chicago: 10/2/55": This show has acquired something of legendary status over the years, if only because the Quartet's portion of the JATP show has never been issued properly, widely and in one piece. Indeed, "Drum Boogie" only appeared briefly on the mail-order American Recording Society label around 40 years ago. The other three tunes, "Sleepy Lagoon," "How High The Moon" and "Sing Sing Sing" came out for about a minute on a budget LP compilation under the title of "Hall of Fame Jazz Greats." Here's the whole, 37-minute-plus program on CD in its entirety for the first time, complete with introduction by Norman Granz. Those who have heard this, including Whitey Mitchell, testify that Gene was in his absolute pristine prime before a hometown crowd, and never played better...or faster! All our CDs, including this one are $20, and are offered on a private, collector-to-collector basis only with no rights given or implied. Shipping, as always, is free worldwide. This will not be posted on our web site, www.JazzLegends.com, for some time, so we can only accept checks, cash or money orders directly to:

Bruce Klauber Tahoe Productions
Box 496
Lafayette Hill, PA 19444

"The Gene Krupa Trio with Benny Carter and Oscar Peterson at JATP": This 38-minute CD contains the impossible-to-find Krupa/Carter/Peterson Trio at JATP in New York on September 23, 1953. This was originally on the three-volume JATP Volume Nine. The second half of the program finds the same trio on November 18, 1953 in Tokyo, Japan. This was first issued on LP, very briefly for some reason, on Pablo in 1977 and very briefly again on a two-CD set from Pablo. There are two great extended solos by Gene, some wild stride piano throughout by Oscar and of course, the elegance of Benny Carter. A must have for any Krupa fan.

"The Gene Krupa Big Band in Canada: 1971": A never-before-released, newly-discovered television special broadcast in Canada, featuring Gene with the Guido Basso Big Band, Rob McConnell, and Eugene Amaro. Though "Dark Eyes" is heard and seen on our new video--"Gene Krupa: Swing, Swing, Swing!"--this is the complete, stereo broadcast with full band. Tracks include "Drum Boogie," "Sing Sing Sing," "Leave Us Leap," "Boogie Blues" and more, plus a great interview with Gene. Two amazing bonus tracks on this CD are "Wham!" and "Flyin' Home," never before issued titles from the Krupa/Rich outing "Burnin' Beat" of 1962. Over a half-hour of superb music with Gene at his best and where he belongs: with a big band!

"Rare Gene: 1945 to 1965": A compilation of rare, unissued and alternate takes of the Trio and Quartet. 1. "Jingle Bells," Ventura/Krupa/Napoleon live radio broadcast from 12/12/45, Hotel Sherman in Chicago, never before issued. 2. "St. Louis Blues,"Ventura/Krupa/Napoleon in a rare alternate take done on 1/19/52 for the "Gene Krupa Trio Collates" session, issued only on the 45rpm EP. 3. "Drum Boogie," Eddie Shu/Bobby Scott/Whitey Mitchell at Jazz At The Philharmonic concert of 10/2/55. Never issued as a part of Norman Granz' Verve/Clef JATP series, previously available only on the American Recording Society label, ARS #416. 4. "Sing Sing Sing Part One and Two," Eddie Wasserman, Ronnie Ball, Jimmy Gannon, issued as a double-sided Verve 45rpm single and on the rare Metro MS518. Recorded December, 1958. 5. "Theme," "Flyin' Home," "Dark Eyes" (partial) New Year's Eve at NY's one and only Metropole Cafe' on 12/31/65 with Gene, Carmen Leggio, Dick Wellstood and Eddie DeHaas. Briefly issued years ago as an LP on the under-the-counter Broadcast Tributes label #0006. Over one-half hour of swinging Gene at his absolute best.

"More Rare Gene: 1952-1972." Although this material has been floating around for some time among real die-hard collectors, we wanted to offer it to those who haven't heard all of this fabulous material in a "private editon" compact disc format. First session is the Krupa Jazz Trio in Japan, from April 18, 1952: Drum Boogie, My Blue Heaven, Stompin' On The Ginza (really Ten Ritchie Drive), Tokyo Express, Badger's Party, Moon Over The Ruined Castle (skips on master) and How High The Moon, which is inexplicably a live cut. Second rarity is from the Ford Star Time television show of February 9, 1960, entitled "Those Swingin' Singin' Years." Ronald Reagan gives the intro to the reconstituted Krupa Orchestra playing "Drum Boogie" with Anita O'Day on vocals. Third session is one of the most exciting ever heard, and I know because I was in the Radio City Music Hall audience in 1972 when it happened. Gene is at full-strength here in a jam session format on "Symphony Sid" and "Honeysuckle Rose" with Roy Eldridge, Bud Freeman, Bobby Hackett, Jim Hall, Larry Ridley and Benny Carter. 51 minutes of Gene at his best, offered on a collector-to-collector basis with no rights given or implied. As usual, these come from rare tapes and old vinyl, so the only thing state-of-the-art is the music. $20 post paid, free shipping worldwide.

"The Complete Dial 'M' For Music": Also includes rare bonus tracks from Germany, featuring Eddie Shu, Bennie Moten, Hal McKinney and Gene playing Theme, Flyin' Home, Big Noise From Winnetka, Interview with Gene by Father Norman J. O'Connor, Moonlight In Vermont, Caravan and Sweet Georgia Brown. Issued briefly 11 years ago on audio cassette--and some filmed portions seen on the "Gene Krupa: Jazz Legend video--here it is for the first time on CD and digitally remastered. Bonus tracks are High Falutin' and Sweet Georgia Brown, featuring Eddie Wasserman, Ronnie Ball, Jimmy Gannon and Gene, recorded live in Karlsruhe, Germany on May 29, 1959 complete with German introductions.

"The Last & Greatest Live Recordings by the Original Krupa Jazz Trio": Recorded and broadcast over a three-night span live from New York City, probably at the famed Basin Street night club. These recordings represent the final recorded evidence of the "original" Krupa Jazz Trio with Charlie Ventura & Teddy Napoleon. Briefly and sporadically issued on the "under-the-counter" Ozone label over 20 years ago, with "Marty" Napoleon erroneously listed as the pianist (Marty's brother Teddy is actually on piano), this rare and exciting set is now available in a private edition/limited circulation CD for the first time, directly from us. There are several skips and pops that were on the original acetates and original LP issue, but The Jazz Trio swings here like never before. Includes: Fines Idea, The Man I Love, Please Don't Talk About Me. St. Louis Blues, Idaho, Stardust, Dark Eyes, Yesterdays and Stompin' At The Savoy.

"Gene Krupa Live At The Chester Inn": with Chuck Slate's Traditional Jazz Band was a wild and woolly Dixieland session recorded on Chester, New Jersey on the afternoon and evening of July 24, 1970. Gene is in unbelievable form here, soloing on virtually every song, from a date that was made available very briefly and only on audio cassette almost ten years ago! Now over an hours worth of the best of the two shows is here and available on CD. Songs: Alice Blue Gown/After You've Gone/Sit Right Down And Write Myself A Letter (Medley); Dippermouth Blues; Who's Sorry Now; Honeysuckle Rose; I Found A New Baby; There'll Be Some Changes Made, China Boy; Louisiana, Hindustan, Honeysuckle Rose #2. You're not going to find this in stores!

More Limited Edition/Private Circulation Cds:

Bruce Klauber is now offering Gene Krupa CDs of long out-of-print Lps. These are limited edition, private-circulation only transfers, done from the original LP records--yes, complete with surface noise, clicks and pops--offered solely as a service to collectors. Fifteen, vintage Krupa recordings from the 1950s and 1960s are currently being made available on a special order basis. We have virtually every recording ever issued on LP by Gene Krupa, so if you don't see it, ask for it. The initial collection includes the 13 CDs listed below.

1) Gene Krupa Trio at JATP   2) The Exciting Gene Krupa
3) The Driving Gene Krupa    4) Sing Sing Sing (Trio)   5) The Jazz Rhythms of Gene Krupa
6) Gene Krupa Quartet  7) Hey! Here's Gene Krupa 8) Krupa Rocks
9) Plays Gerry Mulligan Arrangements   10) The Gene Krupa Story
11) Burnin' Beat   12) Meets Tony Bennett 13) The Great New Gene Krupa Quartet

"Bruce Klauber Salutes The Legends of Jazz Drumming": Klauber, a working jazz drummer for 30 years--as well as a writer and producer of books and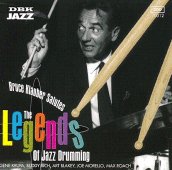 videos--has performed with the likes of Charlie Ventura and Milt Buckner. In this brand new effort, Klauber pays tribute to Gene, Buddy and seven other drumming legends with a hot quartet featuring the tenor saxophone of Larry McKenna. A total of 9 tracks.

Listen to RealAudio Samples:

"Drum Boogie" - salute to Gene Krupa
"9:20 Special" - salute to Jo Jones
"Big Noise from Winnetka" - salute to Ray Bauduc
"Cute" - salute to Sonny Payne
"Old Man River" - salute to Buddy Rich


"Gene Krupa in Concert With The Six Star International Jazz Band": A never- commercially released live show by Gene, circa 1971,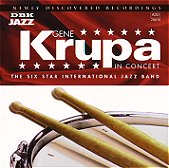 with the Detroit-based, traditional jazz group. Features more soloing by Gene than on anything commercially released by him since the late 1950's! A total of 7 tracks.

Listen to RealAudio Samples:

"Hey Look Me Over"
"St. James Infirmary"
"A Smooth One"
"Sweet Georgia Brown"
"Perdido"



"America's Youngest Drumming Sensation: Joey Preston's Sextette": On June 27, 1947, a small record company out of Hollywood called Modern Records issued a six-record set, all 78rpm of course, of something called "America's Youngest Drumming Sensation: Joey Preston's Sextette." The songs are "China Boy," "Indian Love Call," "I Got Rhythm," "Undecided" (Preston sings!), "The Man I Love" and "Riff-Raff Boogie" (Preston plays piano), with a personnel made up of Preston, Irving Ashby on guitar, Milt Raskin on piano, Nick Pelico on vibes and Frakie Catalano on clarinet. The liner notes were written by one Stanley Newcomb Kenton, who calls Preston "an amazing talent," and that he has seen Preston "demonstrate his artistry on numerous occasions." The sound is what you'd expect from a 53-year-old set of 78s, but for anyone out there is interested, all 16 minutes of young Master Preston is available on CD for $5.00 when you purchase any other item from JazzLegends.com.





---

PRICING AND MAILING INFORMATION

Videos are $30, the book & CDs are $20 (unless noted otherwise).
All are available, post paid, by sending check, cash or money order to:

Bruce Klauber
Box 496
Lafayette Hill, PA 19444.

Allow 2-4 weeks delivery.

You can also pay with your Visa/Mastercard via PayPal at JazzLegends.com..

---